About the Product
| | |
| --- | --- |
| | When it comes to superfoods, Saffola Refined Olive Oil 2L is a wonderful culinary addition to your kitchen. Saffola Aura Olive Oil 2L is a premium 2L refined spanish olive oil. It is extracted from carefully plucked olives from Spanish orchards and then imported to India. This 1L refined olive oil for cooking is cold pressed to retain its naturally occurring flavours and properties. This process ensures natural olive extract infused in every drop of our final product. Saffola Aura refined olive oil is also sourced from spain and refined in India. It can be used for Sautéing, roasting, shallow frying, deep-frying, etc. It is a good alternative for cooking oil in all Indian cuisines. |
Why To Choose Saffola Aura Olive Oil 2L
| | | |
| --- | --- | --- |
| Power of anti-oxidant that helps fight free radicals. | High in healthy fats. rich in unsaturated fatty acids i.e. MUFA. | Obtained from quality Spanish olives. |
You Can Use Saffola Aura Olive Oil 2L For:
| | | | |
| --- | --- | --- | --- |
| Salad Dressing | Ideal for Indian cooking | Frying, sautéing & roasting | Baking |

Ingredients
Imported refined olive oil 2LPresenting Saffola Mealmaker Soya Chunks 400g made with Super Soft Technology that ensures the soya chunks remain super soft. Saffola Mealaker Soya Chunks 400g is manufactured by extrusion of defatted soya flour from healthy soya seeds. We choose ingredients carefully, analyse & balance the key nutritional factors like protein, dietary fibres etc. to ensure optimum quality. Finally, it is extruded with strict process control to obtain soya chunks which cooks softer, so that you can enjoy tender, juicy and tasty chunks. Saffola 400g soya chunks nutritional value: High in Protein (53%),High in Fibre (13%) & Low in Fat (Less than 1%) which aids your Family's nutrition and adds great taste to their everyday food. Try Saffola Soya Chunks 400g-Tasty Super Soft, 400g Soya Chunks with protein.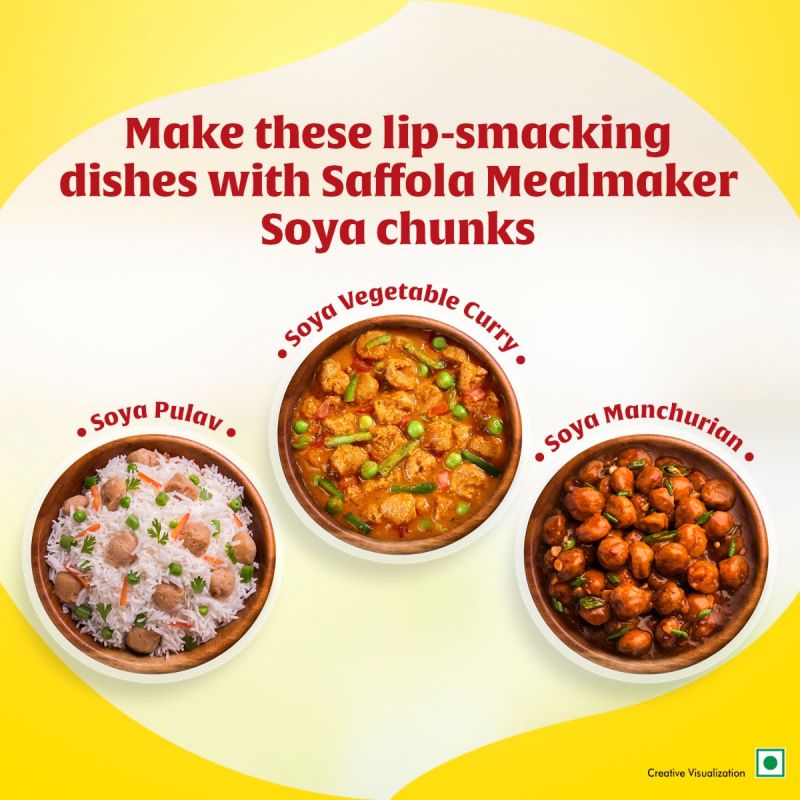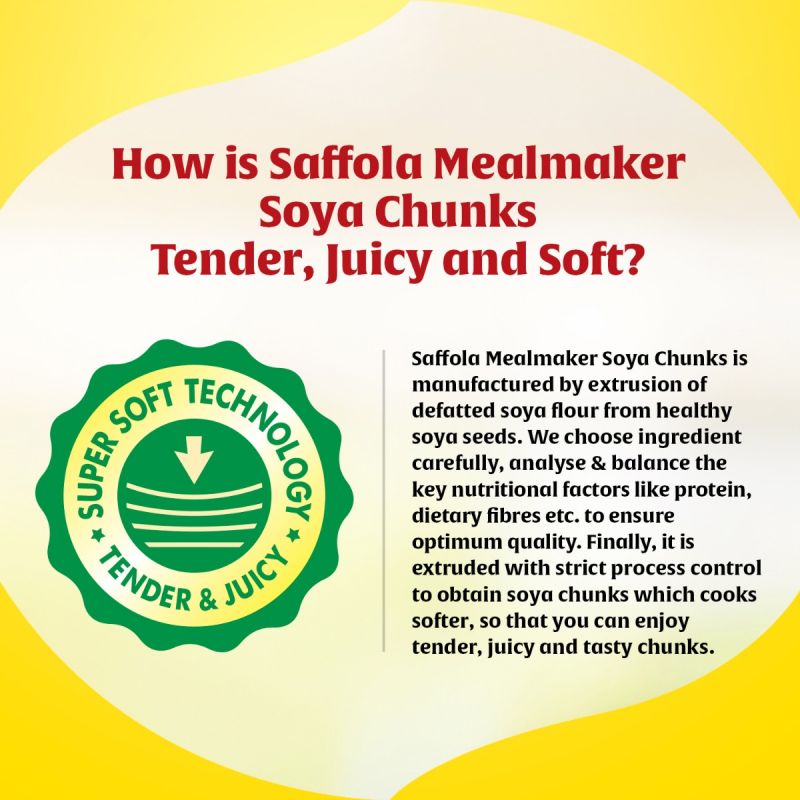 How To Use dried soya chunks 400g
Cooking method for Saffola Mealmaker Soya chunks
• 1 Cup of Saffola Mealmaker Soya chunks gives 1.5 cups of cooked Saffola Mealmaker Soya Chunks.
• Take 3 cups of water and completely immerse 1 cup of Saffola Mealmaker Soya Chunks.
• Add a pinch of salt to it. Avoid adding salt if preparing a sweet dish. Cook it for 5 – 6 min.
• Once it is cooked, drain and Rinse well in cold water (2 – 3 times) and lightly squeeze dry for further use in any of your favourite recipes.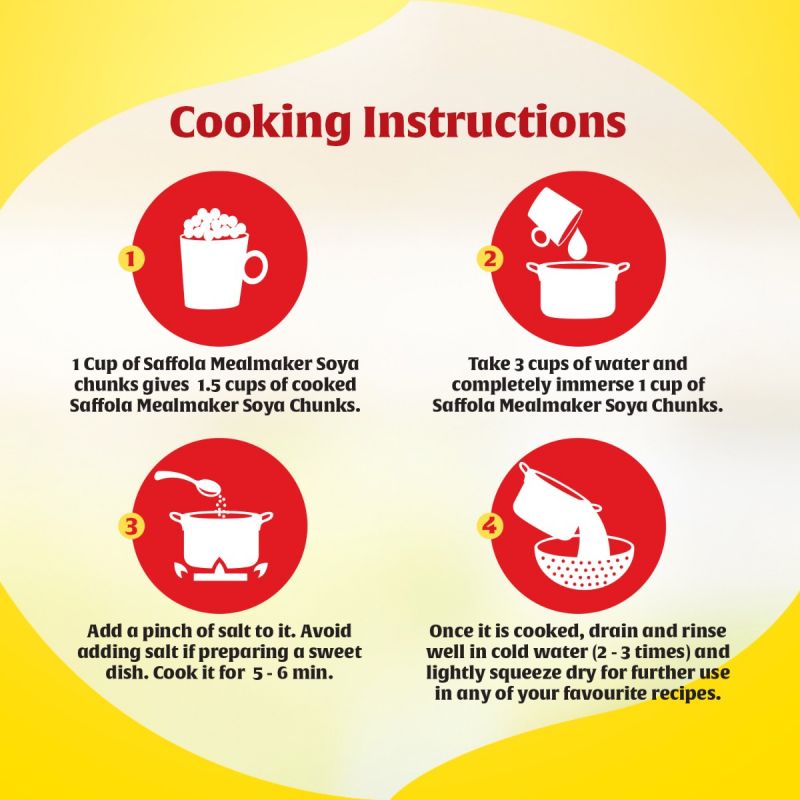 Introducing SAFFOLA OODLES - The Ring Noodles.
Now, make your snack time yummazing with all new Saffola Oodles. This perfect combination of yummy noodles masala flavour and fun rings shape makes for a mouth- watering snack, anytime of the day.
Saffola Oodles brings in the goodness of whole grain oats, real vegetables and sooji. It has NO MAIDA, so you can snack on guilt-free. It comes with a Yummy Masala mix sachet inside which you can add as per your taste.
Saffola Oodles is super easy to prepare. Just add 260ml (1 3/4 tea cup) water and bring to boil, add the ring noodles and the content of the yummy masala mix sachet. And stir occasionally. Your steaming hot bowl of yummy Saffola Oodles will be ready in just 5 mins.

We recommend making it slightly soupy for the best taste. You can also add your favourite garnishing - add coriander, cheese & more veggies for your own unique bowl of Saffola Oodles. So, go ahead, have a delicious bowl of Saffola Oodles and make your snack time yummazing and fun.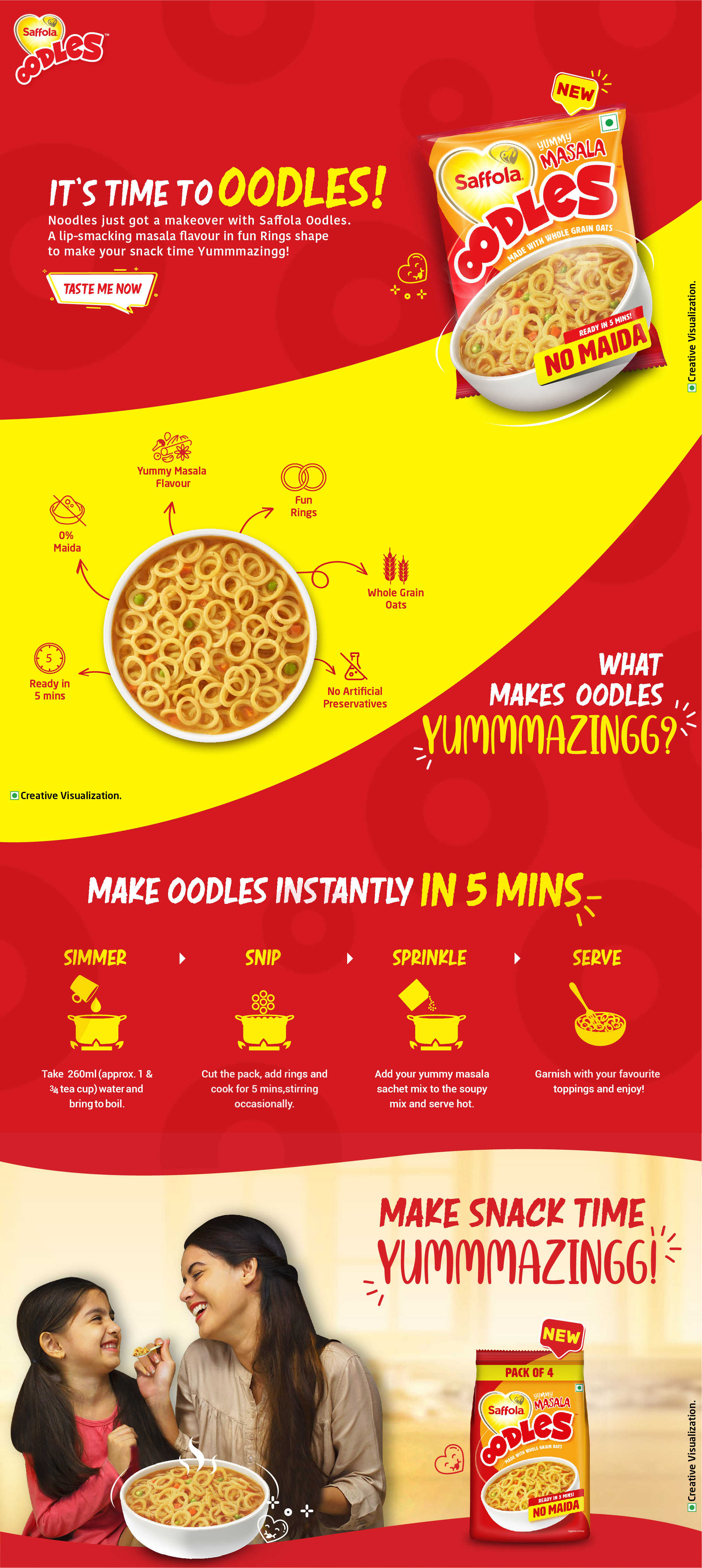 How to Use?
1. Take 260 ml (approx. 1 3/4 tea cup) water and bring to boil
2. Add Saffola Oodles rings and the entire content of Yummy Masala Mix sachet
3. Stir occassionally and cook for 5 minutes. It tastes best when made a little soupy
4. Serve Hot!
Key Ingredients:
Rings: Oat flour (39.4%), Semolina (36.7%), Edible vegetable oil (a blend of refined Rice bran oil & refined sunflower oil), Wheat gluten, Iodised salt, Stabilizers [INS 170(i)]. Yummy Masala Mix: Spices & Condiments (15.2%) [Onion, Cumin, Turmeric, Clove], Dehydrated vegetables (3.6%) [Onions, Carrots], Sugar, Hydrolysed Vegetable Protein, Starch, Milk Solids, Iodised Salt, Maltodextrin, Flavour enhancers (INS 627, INS 631), Anticaking Agent (INS 551), Thickener (INS 414) CONTAINS PERMITTED NATURAL COLOUR (INS 150d) AND ADDED FLAVOURS - NATURAL AND NATURE IDENTICAL FLAVOURING SUBSTANCES