About the Product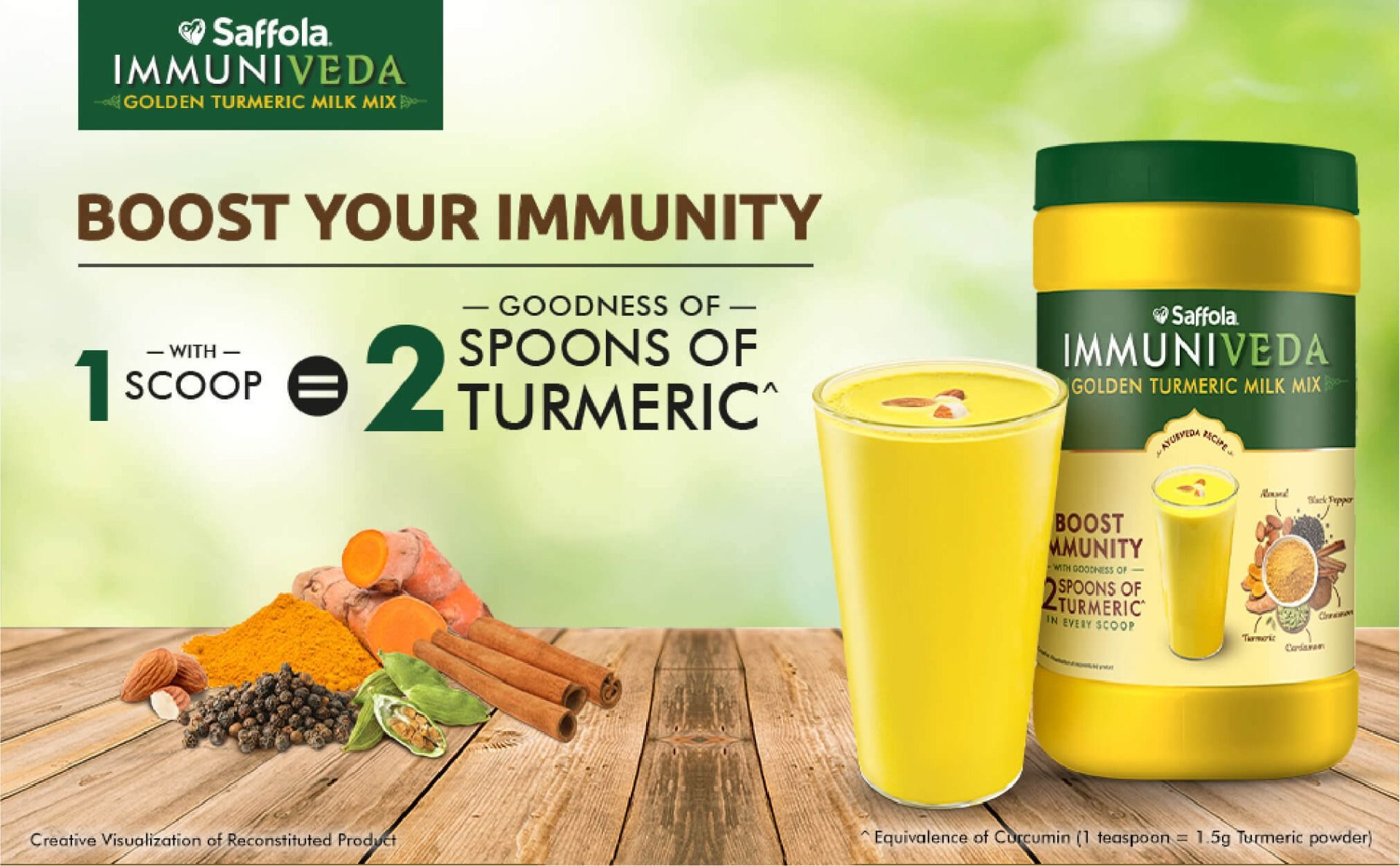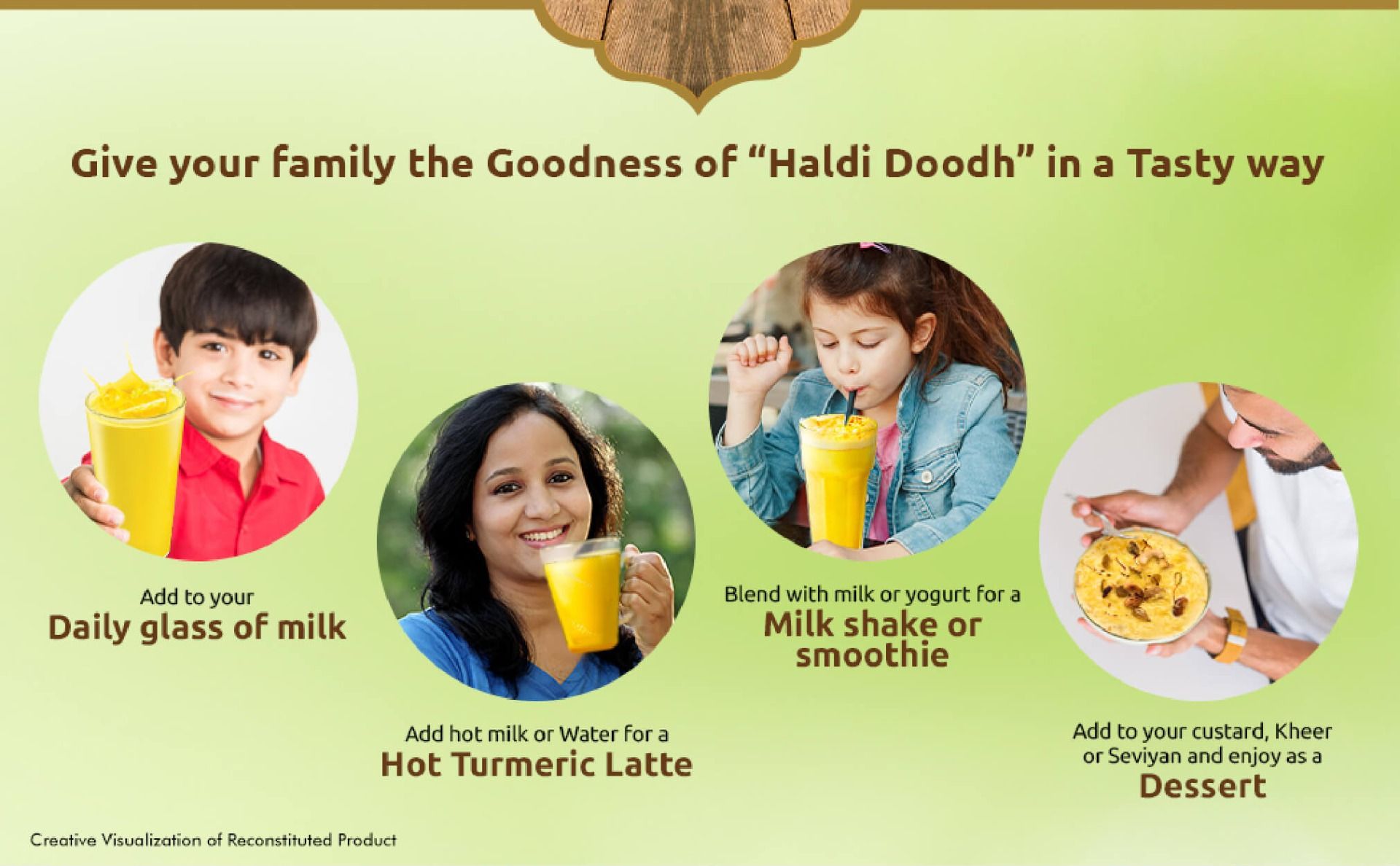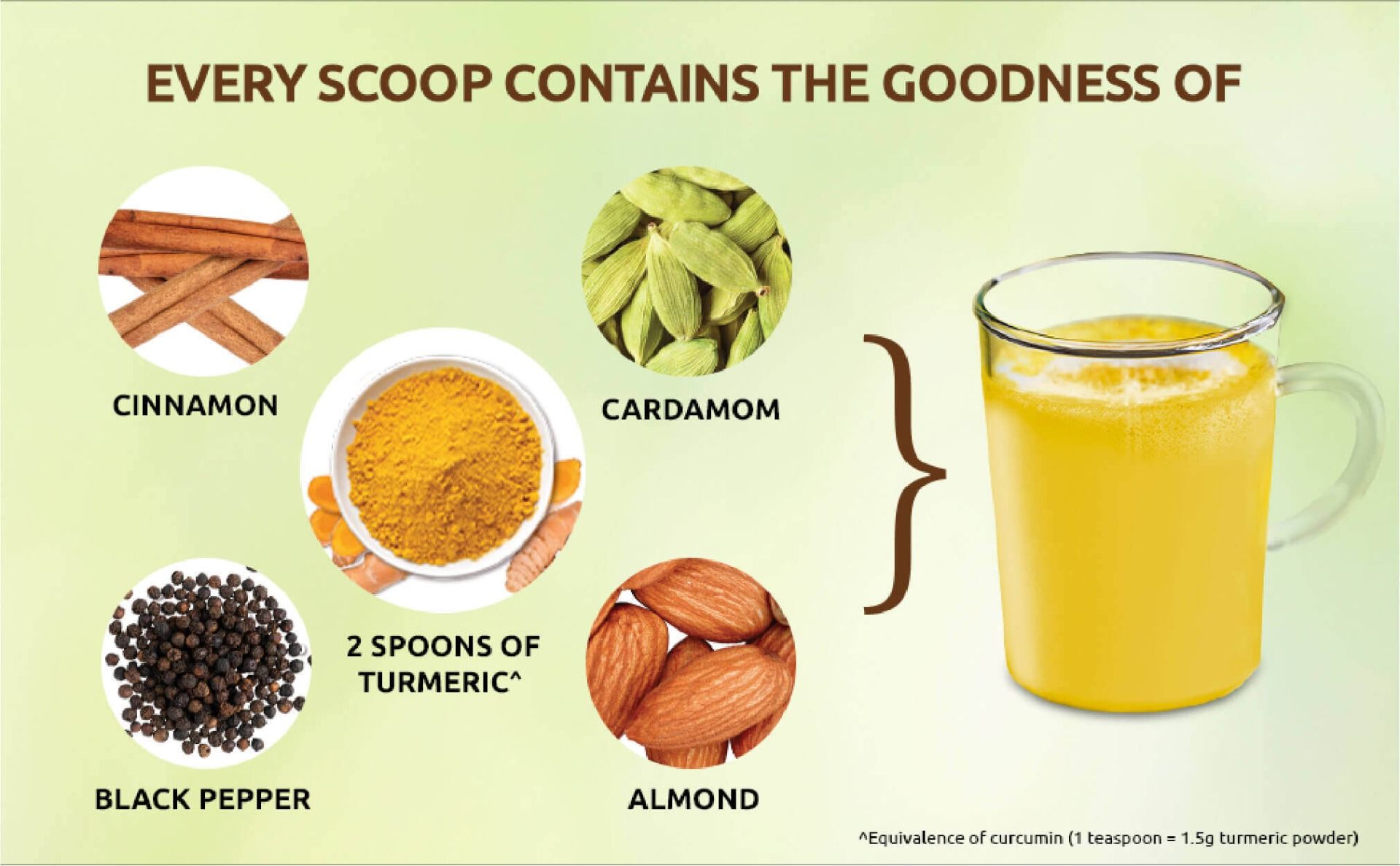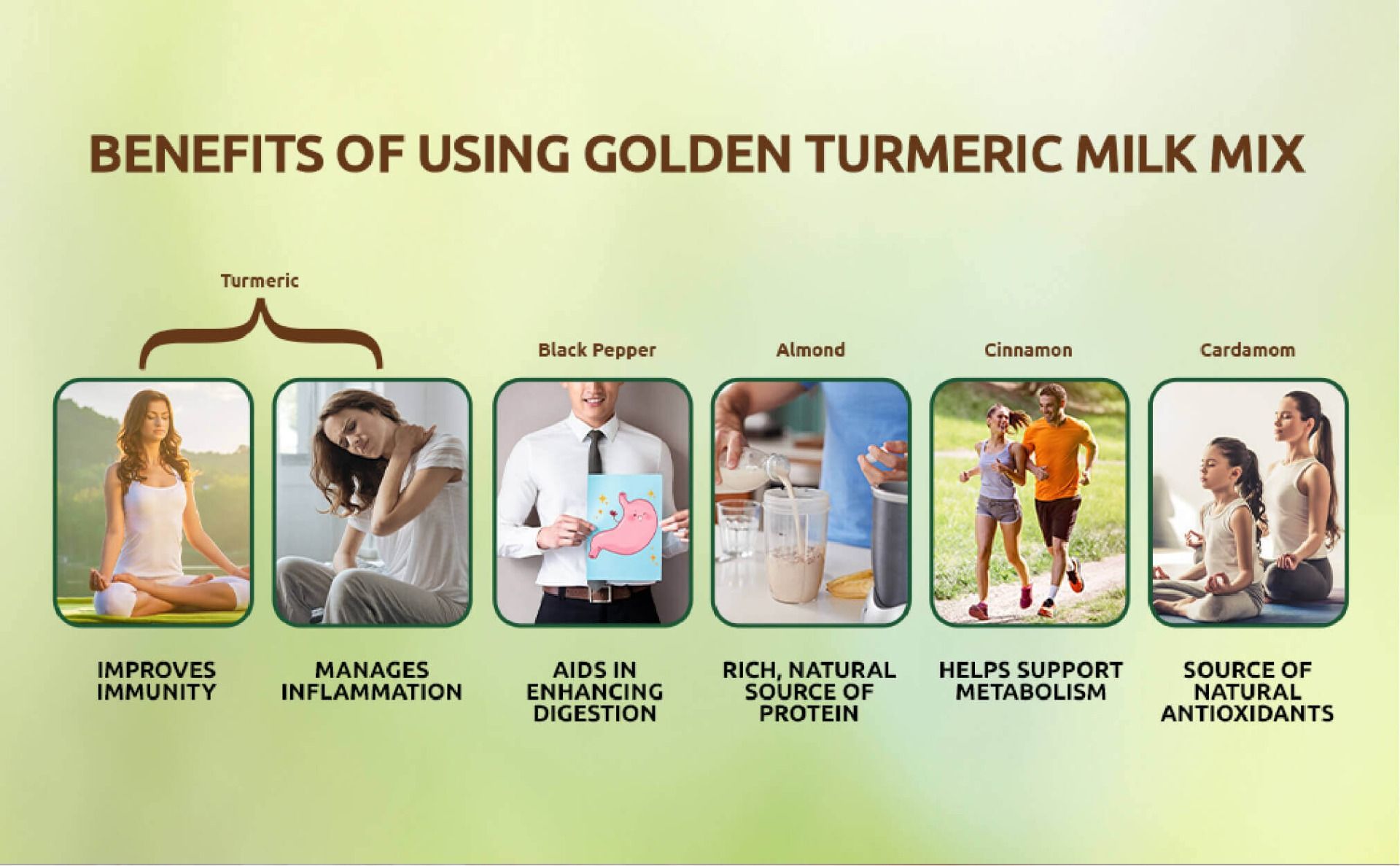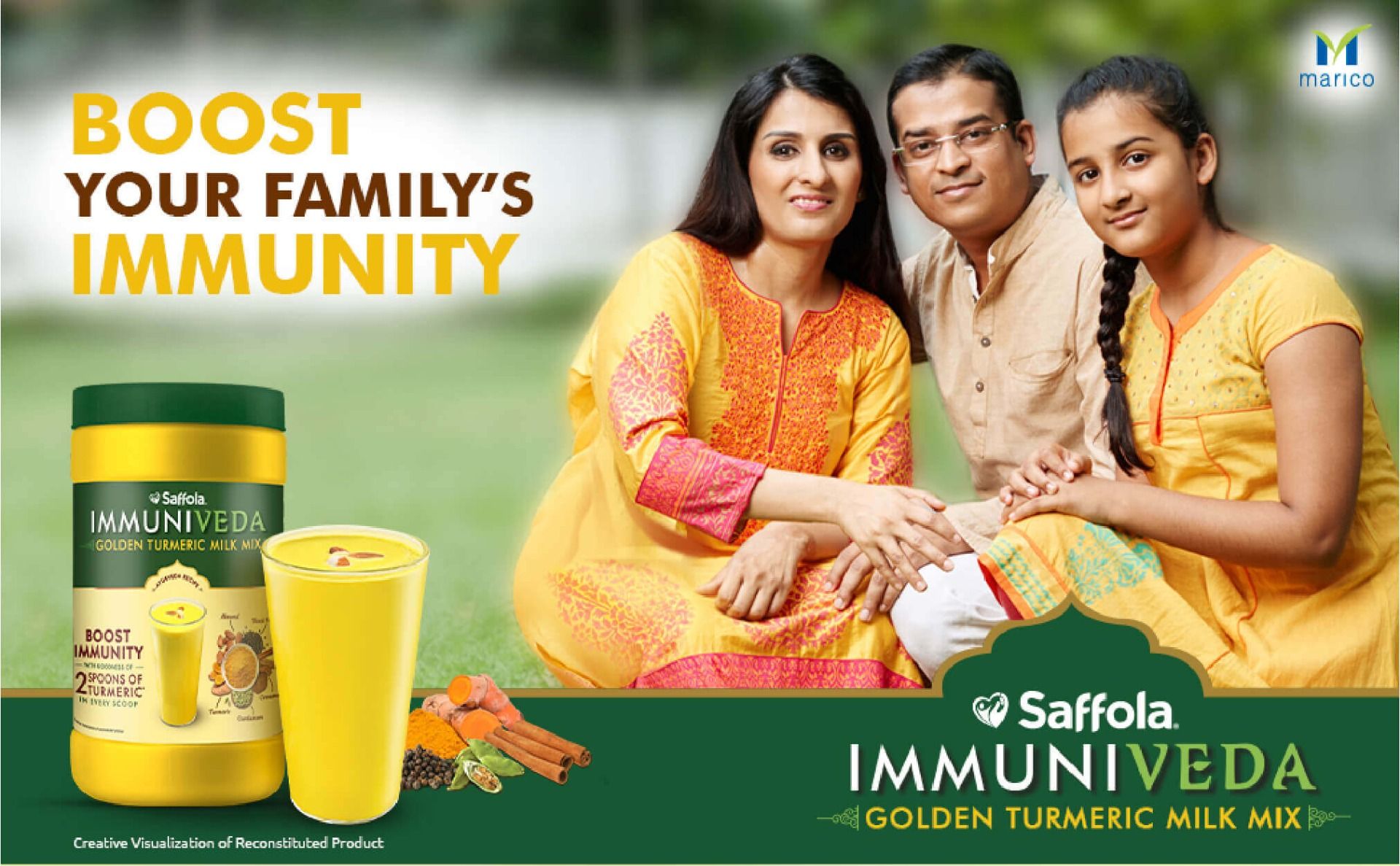 Ingredients
Each 100 g Powder contains Haldi powder (Curcuma longa Rz.) 1.60 g, Haldi Extract (Curcuma longa Rz,) 1.50 g, Elaichi Powder (Elettaria cardamomum Fr.) 0.10 g, Elaichi Extract (Elettaria cardamomum Fr.) 0.10 g, Kali Mirch Powder (Piper nigrum Fr.) 0.20 g, Kali Mirch Extract (Piper nigrum Fr.) 0.05 g, Dalchini Extract (Cinnamonum zeylanicum St. Bk.) 0.03 g, Almond flakes (Prunus amygdalus Sd.) 2.60 g. Permitted Excipients Q.S.
Honey is a natural food and comes with tons of uses and benefits and should be used in its pure form. Pure Honey is also a healthy alternative to sugar and is considered one of the most wonderful gifts that nature has ever gifted to mankind. However, not all honey sold in the market are alike! Some are pure, while others may be highly adulterated. As a consumer, one needs to be watchful as adulterated honey comes with added glucose, sugar syrup, molasses, corn syrup, etc. Not every honey that reads pure necessarily stands true to its claim. A real sign of a pure honey is a product which is free from adulteration and which complies to all the FSSAI parameters and passes the NMR (Nuclear Magnetic Resonance) test for purity. Saffola Honey is natural honey in its purest form. It is tested and approved after many rigorous quality checks including the NMR test. Each bottle of Saffola Pure Honey contains natural antioxidants, has No Added Sugar and comes with a Purity certificate that is made available to its consumers.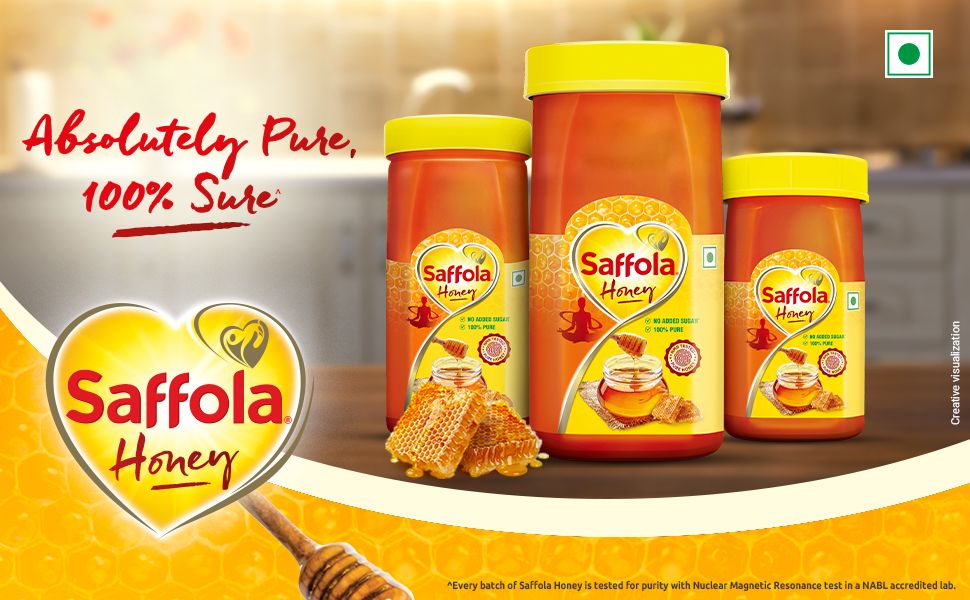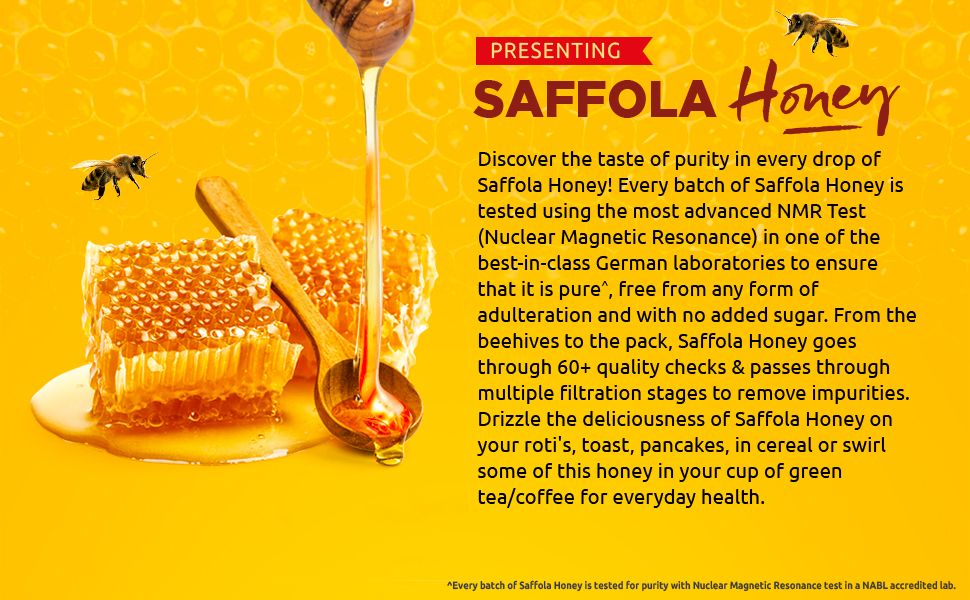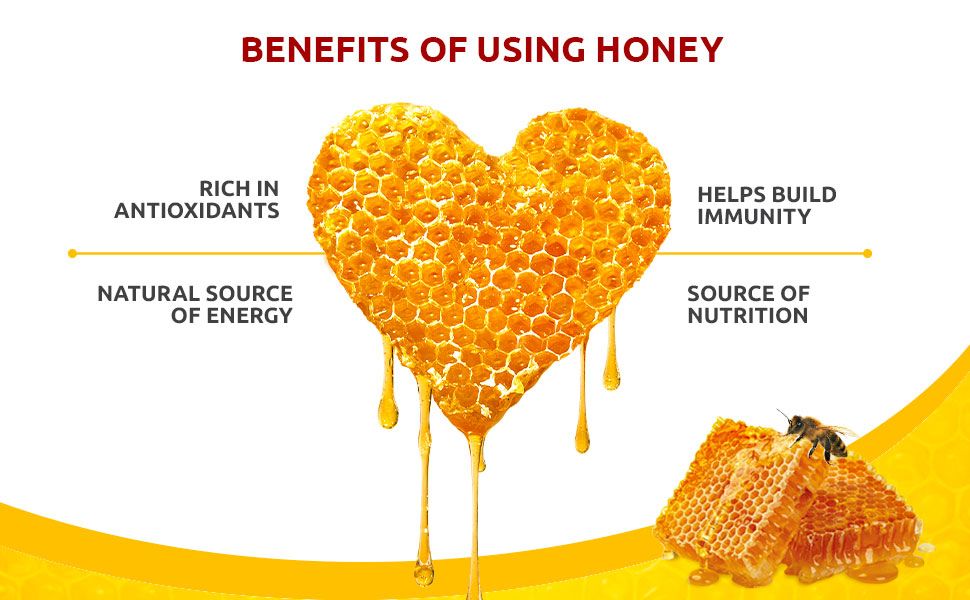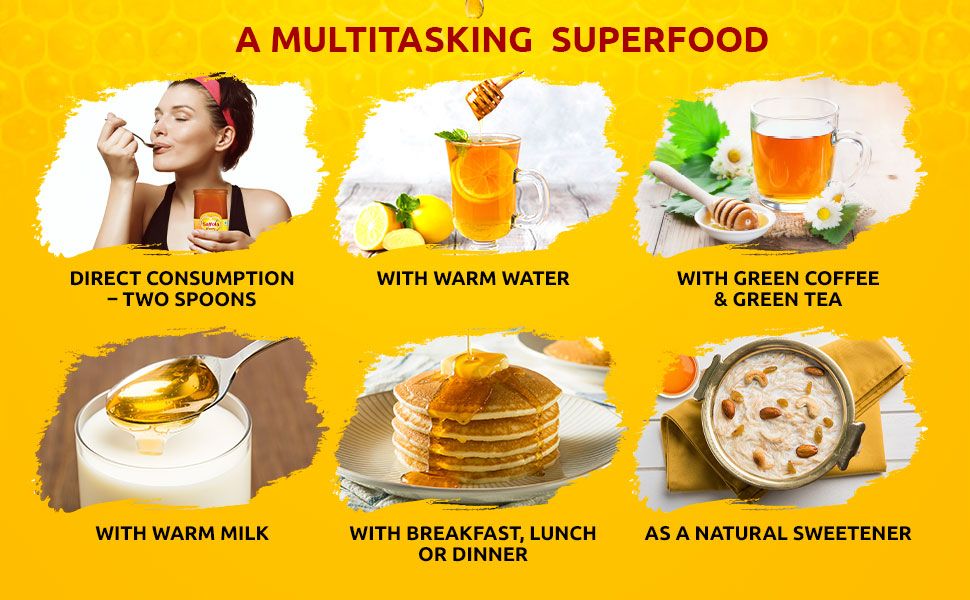 How to use / Directions
Use this 1kg natural honey everyday. Drink Saffola Honey 1kg with warm water every morning for weight management.
Ingredients
Honey(100%)
Saffola Honey 1kg is also available in different quantities like Saffola Honey 500g & Saffola Honey 250g. Also, do not forget to take a look at our wide variety of Saffola products, including Saffola Arogyam Chyawanprash, Saffola Immuniveda Kadha, Saffola Classic Green Coffee and much more to boost your immunity and to stay fit.
Saffola Masala Oats Curry and Pepper 1kg are bursting with flavour and are made from 100% natural wholegrain oats.

Saffola curry and pepper oats 1kg ingredients also include real vegetables and the choicest of masalas. Eating Saffola Masala Oats Curry and Pepper 1kg as part of your daily routine is not just fantastically healthy and delicious, but also requires minimal effort for preparation - Ready in 3 minutes. This 1kg curry oats for weight loss satisfies the cravings for those savory flavours as a breakfast cereal or during different times of the day.



Why Saffola Curry and Pepper Oats 1kg?
*Study dated 31/08/17 based on declared nutrient information of instant noodles vs a Saffola Masala Oats Curry and Pepper 1kg Packet.

Saffola Oats are also available in different flavors like saffola classic masala , saffola oats masala and coriander & saffola masala oats peppy tomato. Also, do not forget to take a look at our wide variety of Saffola products, including Saffola Hi-Protein Sweet Corn Soup, Saffola Immuniveda Turmeric Milk, Saffola Strong Green Coffee and much more to boost your immunity and to stay fit.
Your immunity is your body's shield against ailments. The need to bolster this natural protective cover is becoming critical as new challenges keep emerging in the world. Saffola Arogyam Chyawan Amrut is an Ayurvedic Rasayana that combines the goodness of traditional Chyawanprash with a proprietary combination of herbs, to provide for the immunity needs of today. In addition to the 45+ ingredients of the time-tested classical Chyawanprash and powerful Ayush Kwath herbs, this contemporary Ayurvedic recipe is enhanced with 50% more Amla and extra goodness of Turmeric, Giloy and Ashwagandha which help boost your immunity. The Ayush Kwath ingredients - Tulsi, Dalchini, Sunthi & Kali Marich help support respiratory health and relieve cough, cold and sore throat. Saffola Arogyam Chyawan Amrut is enriched with Bala, Shatavari & Vidarikand which help improve strength, stamina & energy. This unique Chyawan Amrut is an immunity booster recommended for all ages (above 3 years) and for all seasons.
Why Saffola Arogyam? Saffola Arogyam brings you contemporary products, that harness the power of Ayurveda with ingredients that boost your immunity. Inspired by the ancient recipes, we have carefully selected potent ingredients and combined them to create unique Ayurvedic products that help keep your family protected in the current times.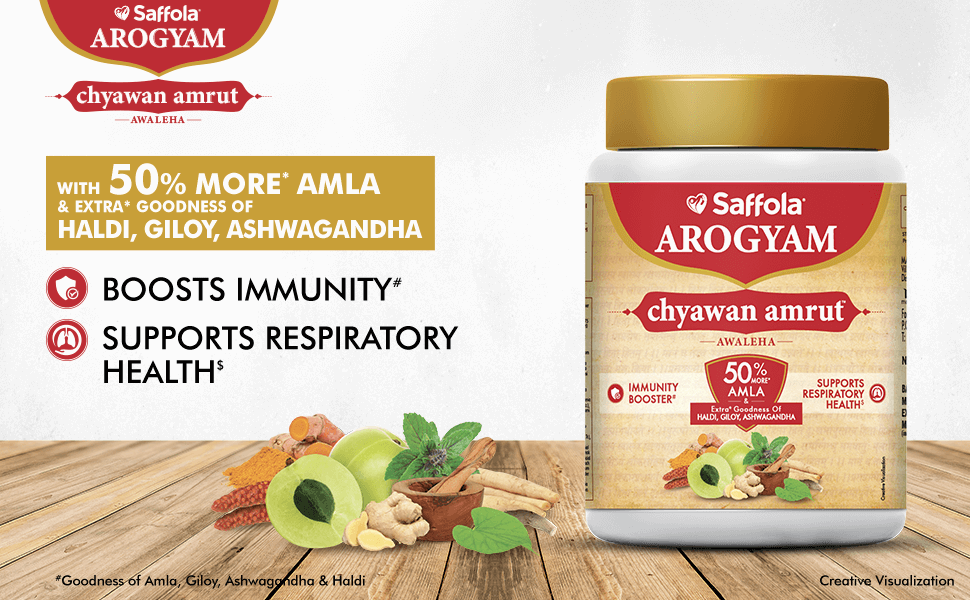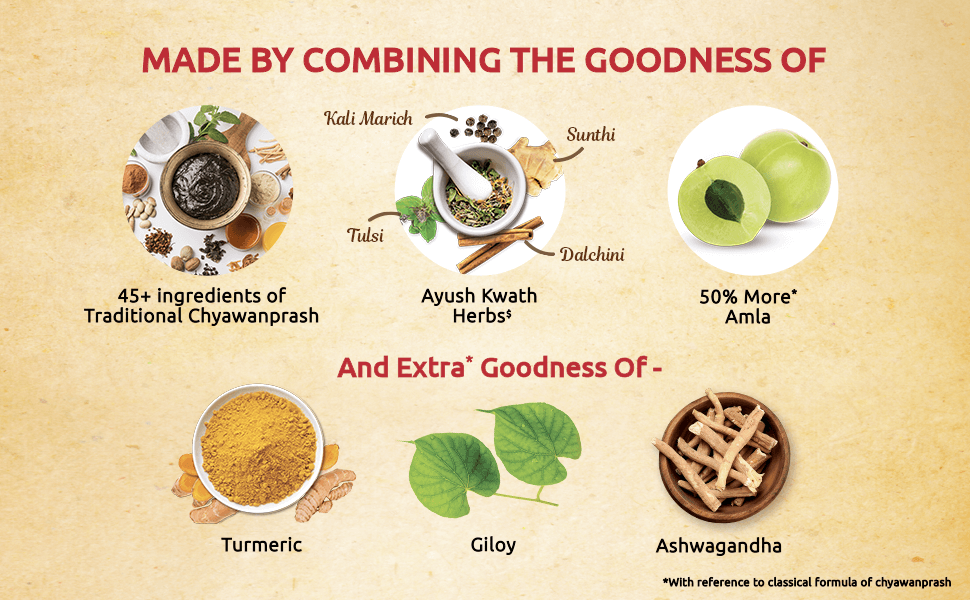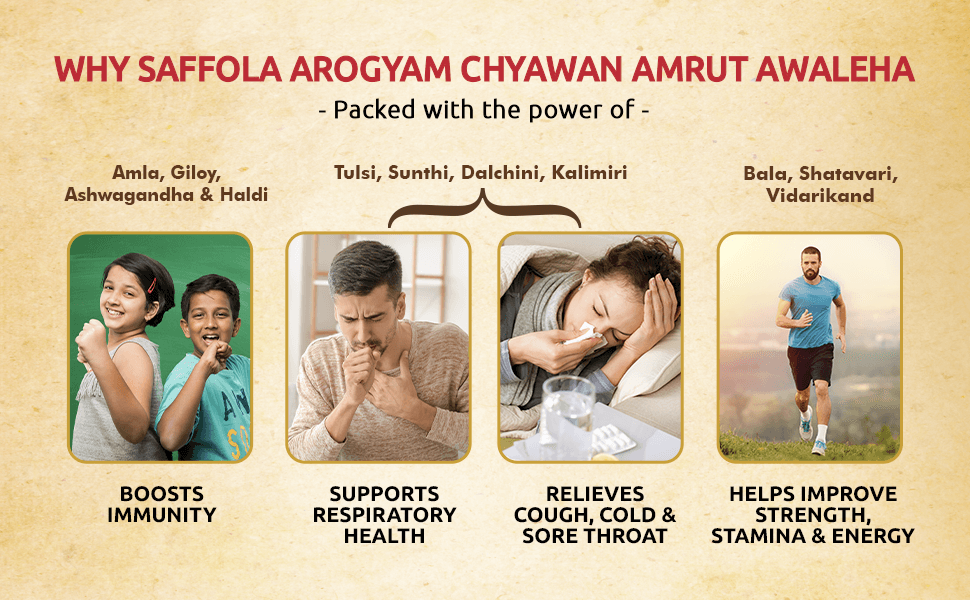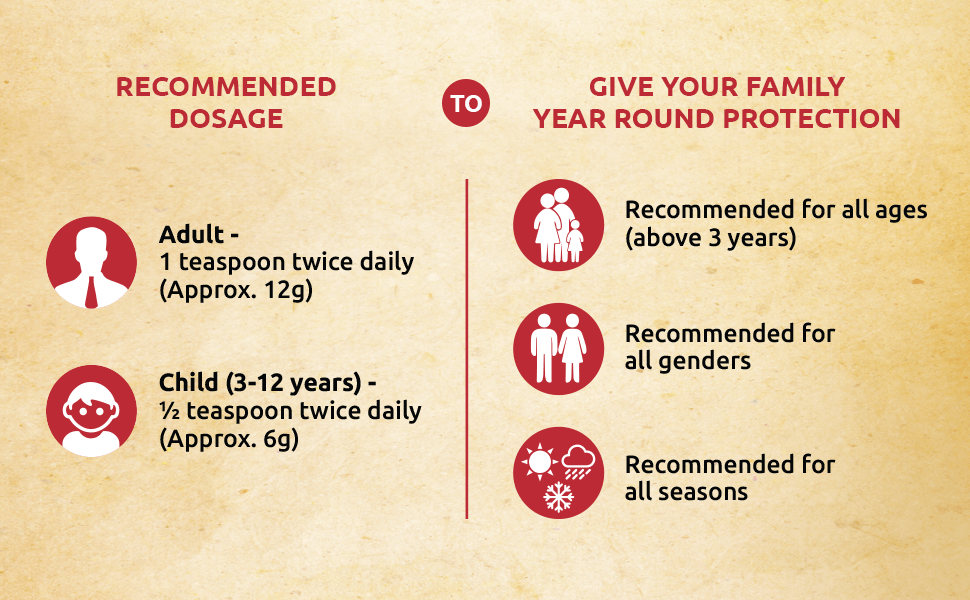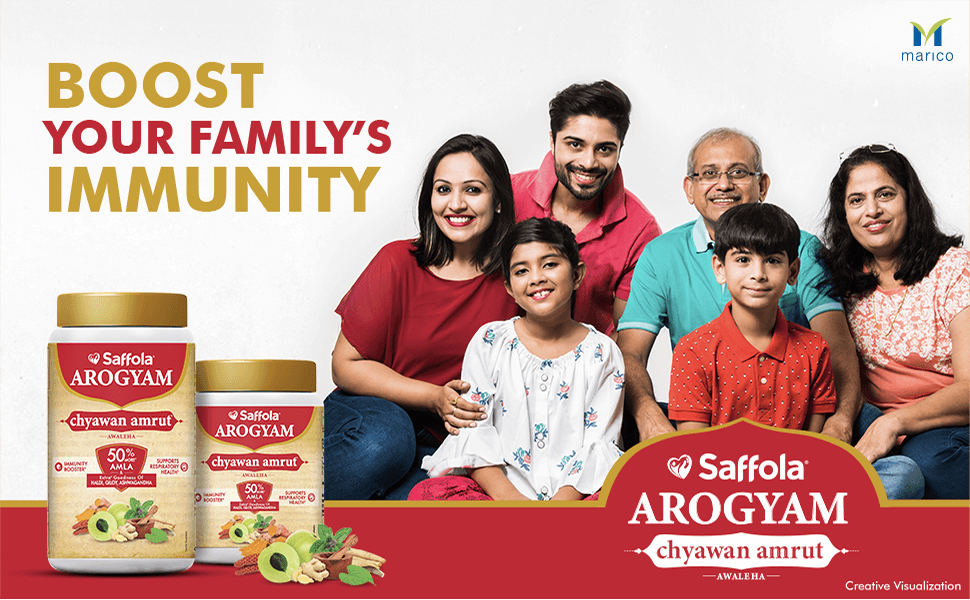 Ingredients
Chyawanprash, Immunity, Chyawanprash for immunity, Chyawanprash for immunity boosting,Dietery Supplement,Ayurvedic Supplement , Immunity Booster, Chyawanprash for all ages, chyawanprash immunity, chyawanprash ayurvedic, chyawan prash, chawan, prash, ayush kwath, haldi, turmeric
Introducing SAFFOLA OODLES - The Ring Noodles.
Now, make your snack time yummazing with all new Saffola Oodles. This perfect combination of yummy noodles masala flavour and fun rings shape makes for a mouth- watering snack, anytime of the day.
Saffola Oodles brings in the goodness of whole grain oats, real vegetables and sooji. It has NO MAIDA, so you can snack on guilt-free. It comes with a Yummy Masala mix sachet inside which you can add as per your taste.
Saffola Oodles is super easy to prepare. Just add 260ml (1 3/4 tea cup) water and bring to boil, add the ring noodles and the content of the yummy masala mix sachet. And stir occasionally. Your steaming hot bowl of yummy Saffola Oodles will be ready in just 5 mins.

We recommend making it slightly soupy for the best taste. You can also add your favourite garnishing - add coriander, cheese & more veggies for your own unique bowl of Saffola Oodles. So, go ahead, have a delicious bowl of Saffola Oodles and make your snack time yummazing and fun.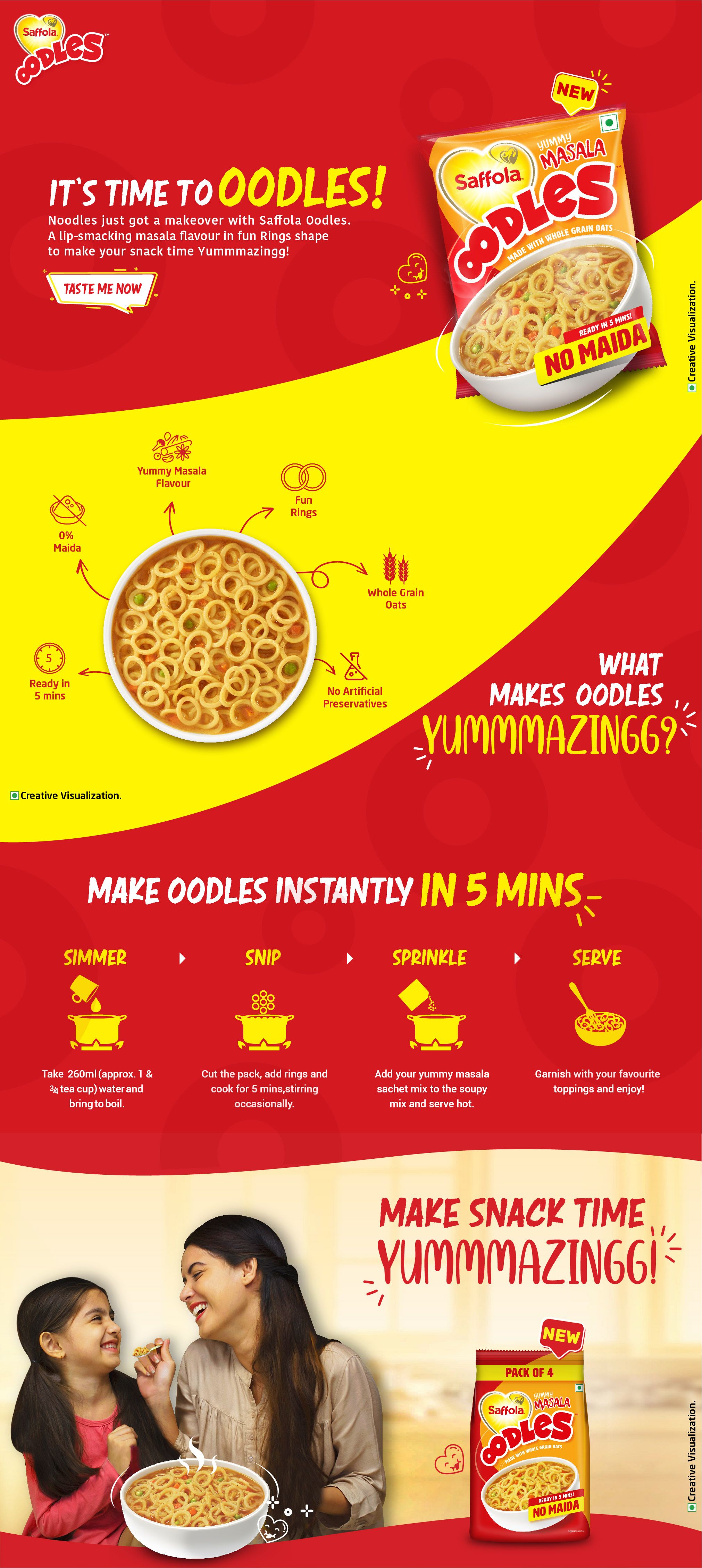 How to Use?
1. Take 260 ml (approx. 1 3/4 tea cup) water and bring to boil
2. Add Saffola Oodles rings and the entire content of Yummy Masala Mix sachet
3. Stir occassionally and cook for 5 minutes. It tastes best when made a little soupy
4. Serve Hot!
Key Ingredients:
Rings: Oat flour (39.4%), Semolina (36.7%), Edible vegetable oil (a blend of refined Rice bran oil & refined sunflower oil), Wheat gluten, Iodised salt, Stabilizers [INS 170(i)]. Yummy Masala Mix: Spices & Condiments (15.2%) [Onion, Cumin, Turmeric, Clove], Dehydrated vegetables (3.6%) [Onions, Carrots], Sugar, Hydrolysed Vegetable Protein, Starch, Milk Solids, Iodised Salt, Maltodextrin, Flavour enhancers (INS 627, INS 631), Anticaking Agent (INS 551), Thickener (INS 414) CONTAINS PERMITTED NATURAL COLOUR (INS 150d) AND ADDED FLAVOURS - NATURAL AND NATURE IDENTICAL FLAVOURING SUBSTANCES