About the Product
Your immunity is your body's shield against ailments. The need to bolster this natural protective cover is becoming critical as new challenges keep emerging in the world. Saffola Arogyam Chyawan Amrut is an Ayurvedic Rasayana that combines the goodness of traditional Ayurvedic Chyawanprash with a proprietary combination of herbs, to provide for the immunity needs of today. In addition to the 45+ ingredients of the time-tested classical Saffola Chyawanprash and powerful Ayush Kwath herbs, this contemporary Ayurvedic recipe is enhanced with 50% more Amla and extra goodness of Turmeric, Giloy and Ashwagandha which help boost your immunity. The Ayush Kwath ingredients - Tulsi, Dalchini, Sunthi & Kali Marich help support respiratory health and relieve cough, cold and sore throat. Saffola Arogyam Chyawan Amrut is enriched with Bala, Shatavari & Vidarikand which help improve strength, stamina & energy. This unique Chyawanprash 500g is an immunity booster recommended for all ages (above 3 years) and for all seasons.
Why Saffola Chywanprash? Saffola Chywanprash brings you contemporary products, that harness the power of Ayurveda with ingredients that boost your immunity. Inspired by the ancient recipes, we have carefully selected potent ingredients and combined them to create unique Ayurvedic products that help keep your family protected in the current times.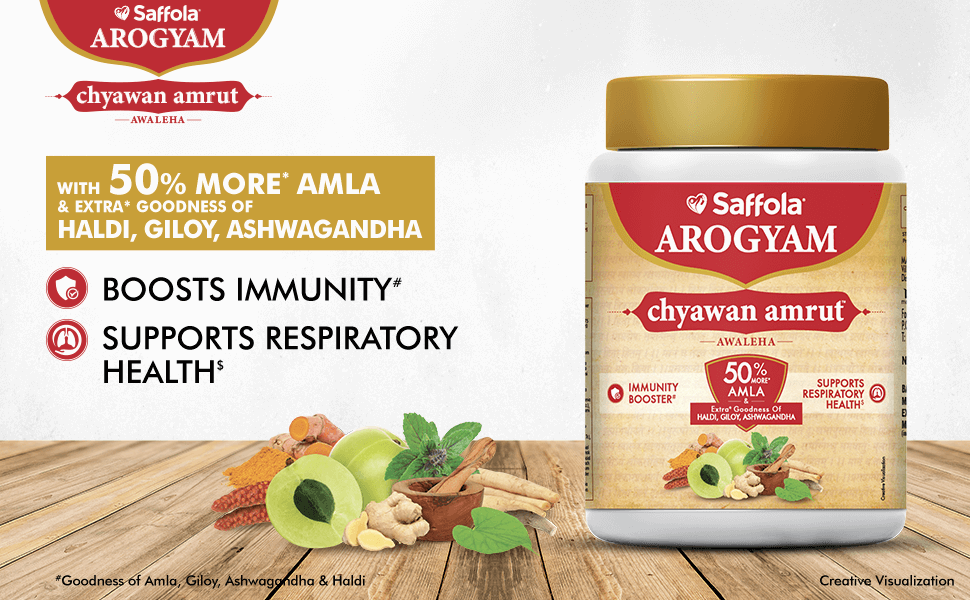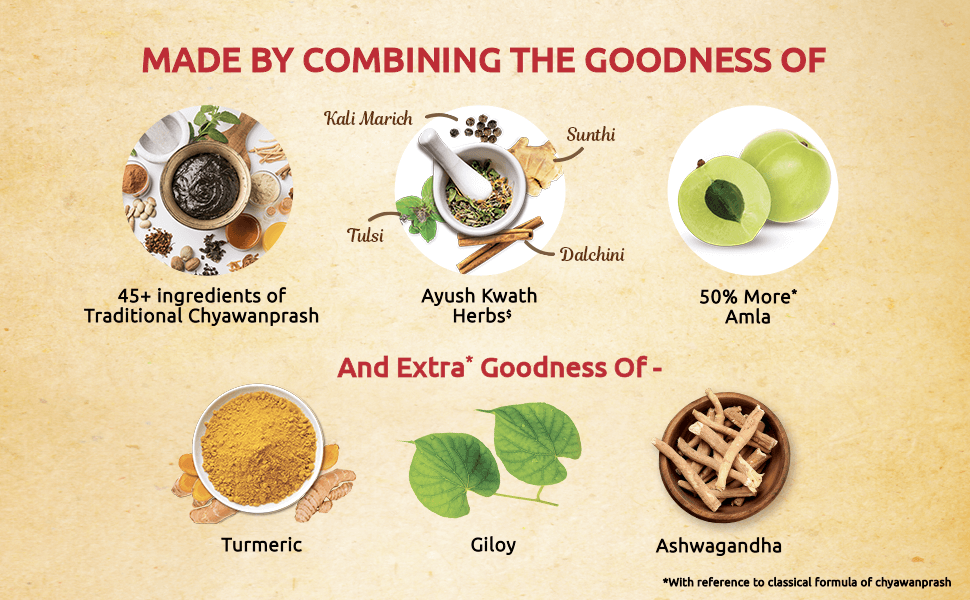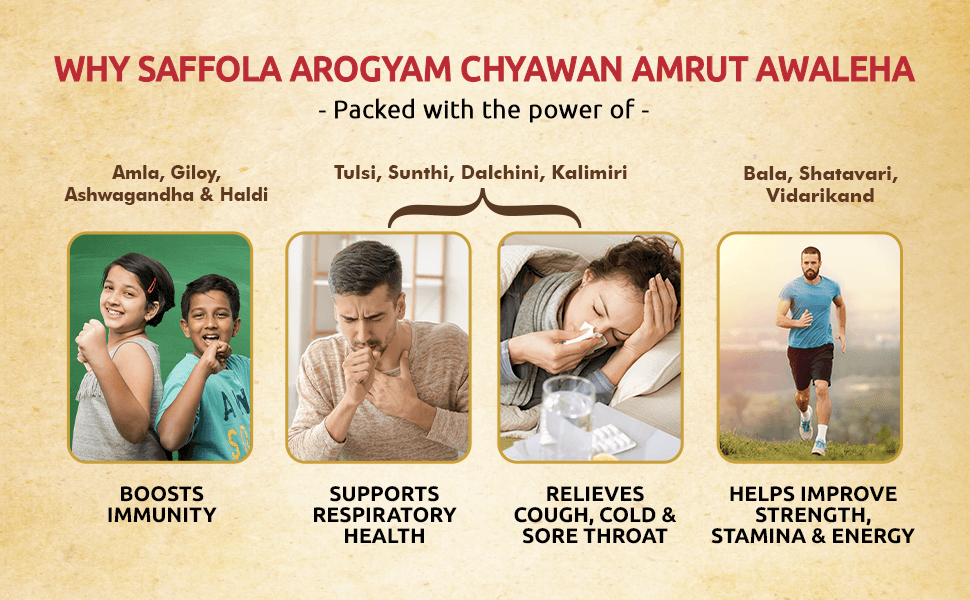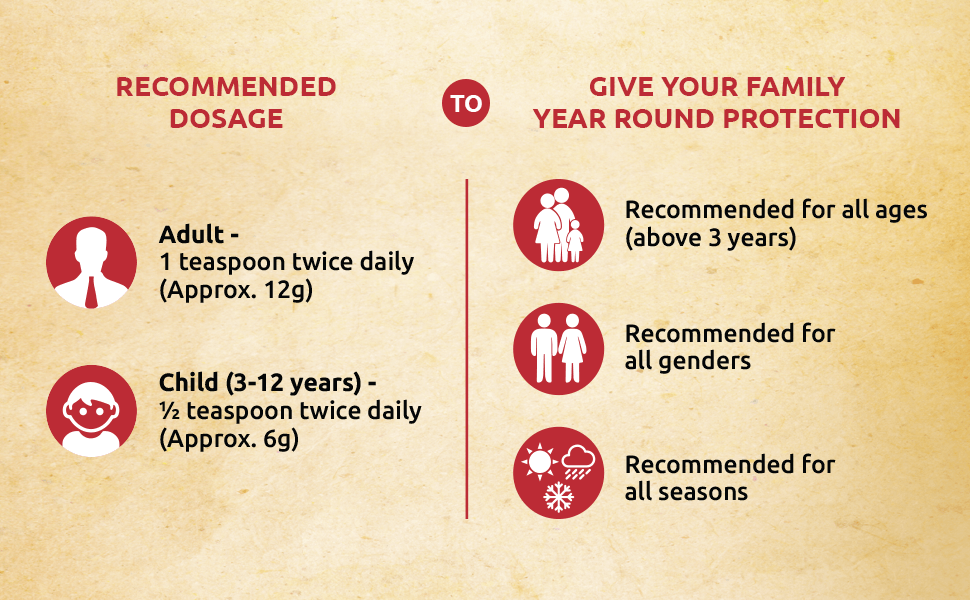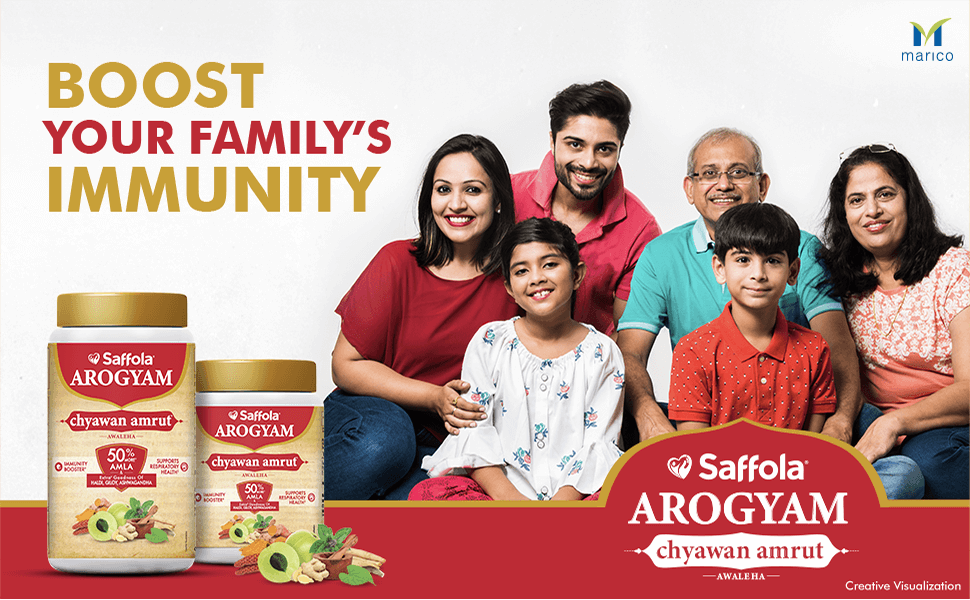 Ingredients
Chyawanprash, Immunity, Chyawanprash for immunity, Chyawanprash for immunity boosting,Dietery Supplement,Ayurvedic Supplement , Immunity Booster, Chyawanprash for all ages, chyawanprash immunity, chyawanprash ayurvedic, chyawan prash, chawan, prash, ayush kwath, haldi, turmeric
You can buy this chyawanprash online from Saffola Immunity Booster's range. You can also learn about our other Saffola products of this range such as Saffola Immuniveda Kadha & Saffola Immuniveda Turmeric Milk. And while you're at it, also check out our best selling products such as honey 250g, hight protein mango shake, sweet corn soup and much more.