About the Product
Are you pushing for a healthy lifestyle even amongst the daily hustles? Today our food habits, stress & activity level affect our health. Choose Saffola Gold healthy cooking oil 8L, which partners your journey for a healthy lifestyle. Saffola Gold edible sunflower oil 8L takes care of you and your family by bringing together the benefits of oryzanol, natural Antioxidant, MUFA PUFA balance and Vitamins A and D.
Daily consumption of Saffola Gold Edible Vegetable Oil 8L as part of a balanced diet with regular physical activity can help you maintain a healthy lifestyle. This 8L healthy cooking oil offers a convenient way of getting the nutritional benefit of 2 oils in one to help take better care of your heart.
LOSORB technology

Results in upto 33% *less oil absorption in fried food as compared to commonly consumed cooking oils.

Improved Antioxidant System

With Antioxidants that helps fight free radicals produced from factors like unhealthy lifestyle, irregular eating.

Saffola Gold oil 8LSaffola Gold oil 8L

Blend of 70% refined rice bran oil and 30% refined sunflower oil.
From the Manufacturer
About the Brand:
At Saffola, we understand that each one of you have your own way in which you blend health into your lifestyle. We encourage and applaud your actions to discover your own ways of being fit & heart- healthy, so that health becomes not only a journey, but a sustainable part of your life.
(*Basis frying studies on potato, 2018)

Ingredients
Refined Rice Bran Oil & Refined Sunflower Oil. Contains Permitted Antioxidants INS [319, 330, 304] And Anti Foaming Agent INS |900a| Free From Argemone Oil. Fortified With Vitamins A And D.
Also take a look at our other Saffola products, including swiss chocolate shake, classic green coffee, Mexican sweet corn soup and much more for staying fit and healthy. You can also try your hands at our best selling products such as honey 250g, classic masala oats, ayurvedic kadha, etc.
Your immunity is your body's shield against ailments. The need to bolster this natural protective cover is becoming critical as new challenges keep emerging in the world. Saffola Arogyam Chyawan Amrut is an Ayurvedic Rasayana that combines the goodness of traditional Chyawanprash with a proprietary combination of herbs, to provide for the immunity needs of today. In addition to the 45+ ingredients of the time-tested classical Chyawanprash and powerful Ayush Kwath herbs, this contemporary Ayurvedic recipe is enhanced with 50% more Amla and extra goodness of Turmeric, Giloy and Ashwagandha which help boost your immunity. The Ayush Kwath ingredients - Tulsi, Dalchini, Sunthi & Kali Marich help support respiratory health and relieve cough, cold and sore throat. Saffola Arogyam Chyawan Amrut is enriched with Bala, Shatavari & Vidarikand which help improve strength, stamina & energy. This unique Chyawan Amrut is an immunity booster recommended for all ages (above 3 years) and for all seasons.
Why Saffola Arogyam? Saffola Arogyam brings you contemporary products, that harness the power of Ayurveda with ingredients that boost your immunity. Inspired by the ancient recipes, we have carefully selected potent ingredients and combined them to create unique Ayurvedic products that help keep your family protected in the current times.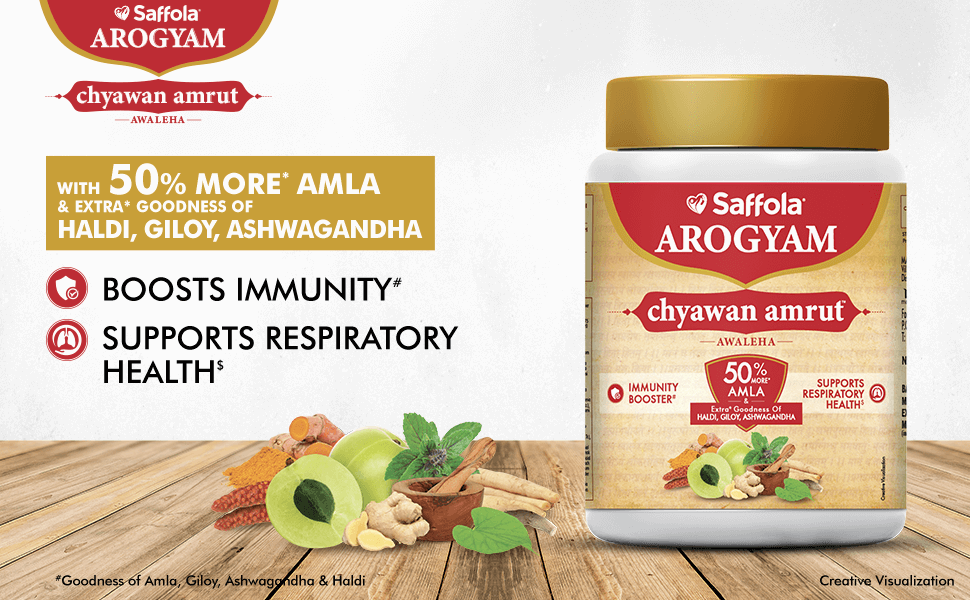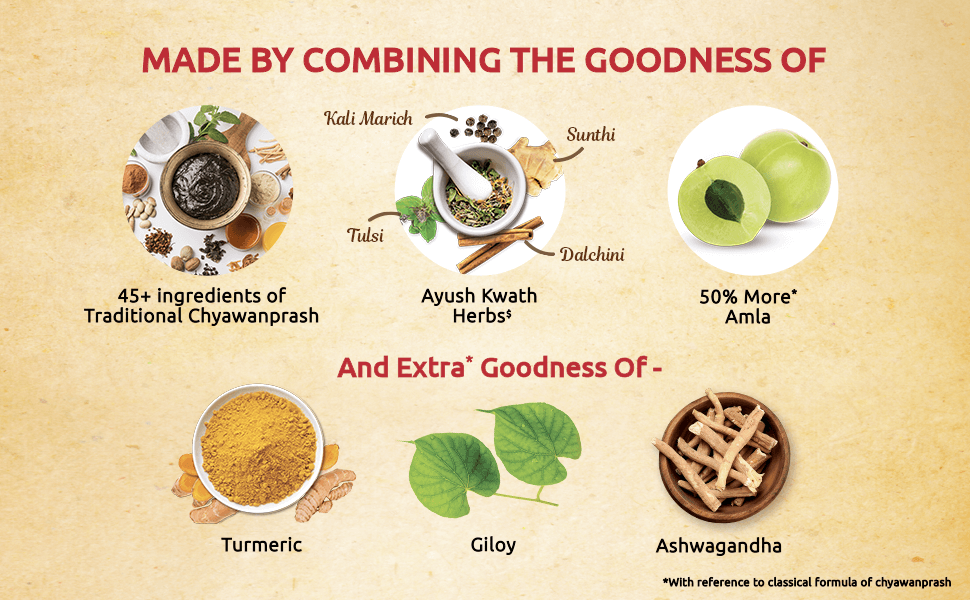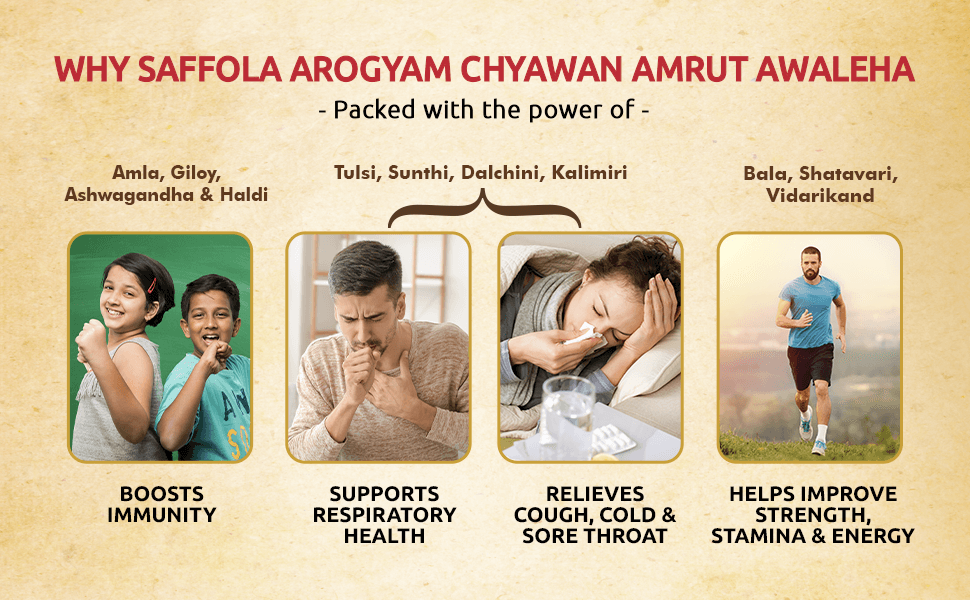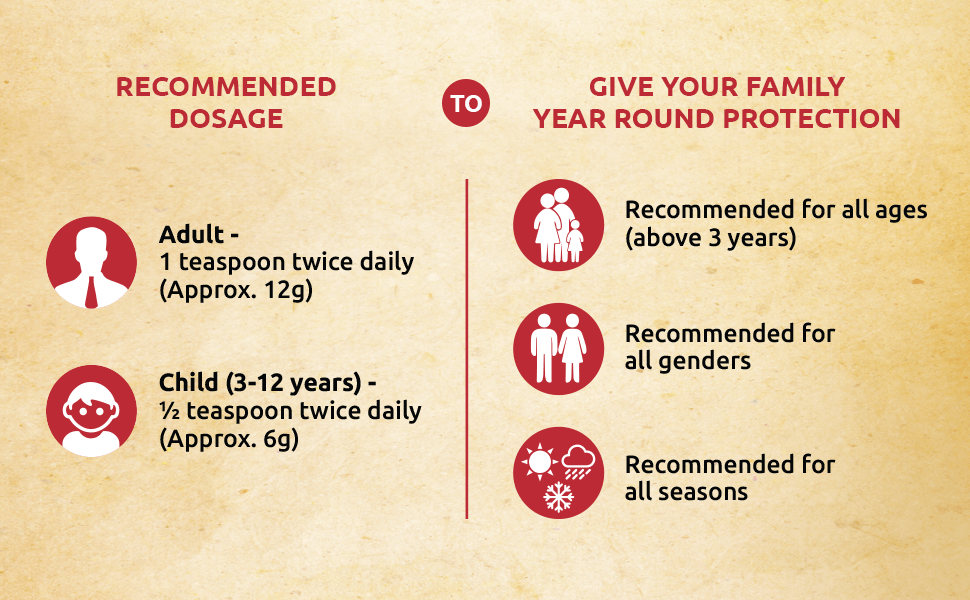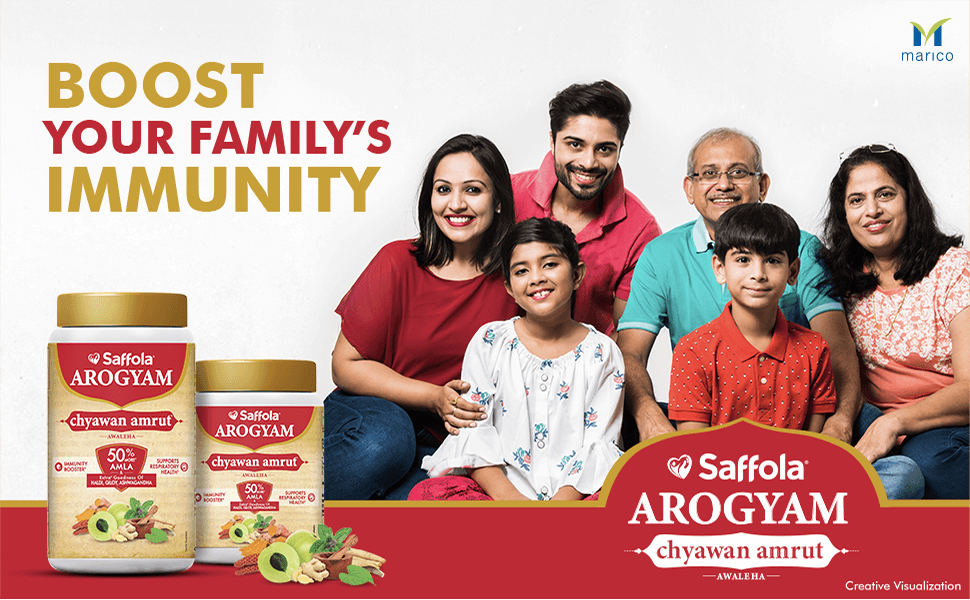 Ingredients
Chyawanprash, Immunity, Chyawanprash for immunity, Chyawanprash for immunity boosting,Dietery Supplement,Ayurvedic Supplement , Immunity Booster, Chyawanprash for all ages, chyawanprash immunity, chyawanprash ayurvedic, chyawan prash, chawan, prash, ayush kwath, haldi, turmeric