About the Product
Introducing SAFFOLA OODLES - The Ring Noodles.
Now, make your snack time yummazing with all new Saffola Oodles. This perfect combination of yummy noodles masala flavour and fun rings shape makes for a mouth- watering snack, anytime of the day.
Saffola Oodles brings in the goodness of whole grain oats, real vegetables and sooji. It has NO MAIDA, so you can snack on guilt-free. It comes with a Yummy Masala mix sachet inside which you can add as per your taste.
Saffola Oodles is super easy to prepare. Just add 260ml (1 3/4 tea cup) water and bring to boil, add the ring noodles and the content of the yummy masala mix sachet. And stir occasionally. Your steaming hot bowl of yummy Saffola Oodles will be ready in just 5 mins.

We recommend making it slightly soupy for the best taste. You can also add your favourite garnishing - add coriander, cheese & more veggies for your own unique bowl of Saffola Oodles. So, go ahead, have a delicious bowl of Saffola Oodles and make your snack time yummazing and fun.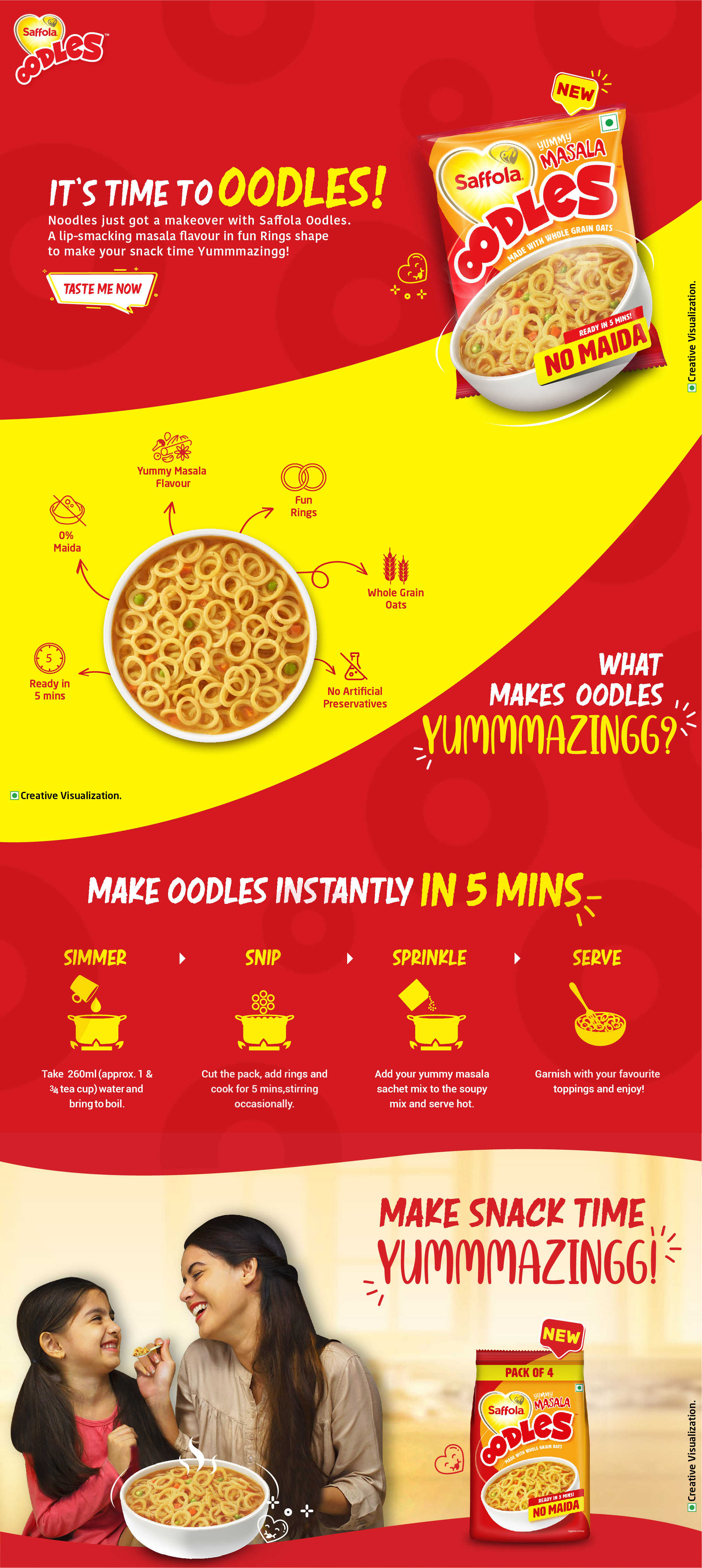 How to Use?
1. Take 260 ml (approx. 1 3/4 tea cup) water and bring to boil
2. Add Saffola Oodles rings and the entire content of Yummy Masala Mix sachet
3. Stir occassionally and cook for 5 minutes. It tastes best when made a little soupy
4. Serve Hot!
Key Ingredients:
Rings: Oat flour (39.4%), Semolina (36.7%), Edible vegetable oil (a blend of refined Rice bran oil & refined sunflower oil), Wheat gluten, Iodised salt, Stabilizers [INS 170(i)]. Yummy Masala Mix: Spices & Condiments (15.2%) [Onion, Cumin, Turmeric, Clove], Dehydrated vegetables (3.6%) [Onions, Carrots], Sugar, Hydrolysed Vegetable Protein, Starch, Milk Solids, Iodised Salt, Maltodextrin, Flavour enhancers (INS 627, INS 631), Anticaking Agent (INS 551), Thickener (INS 414) CONTAINS PERMITTED NATURAL COLOUR (INS 150d) AND ADDED FLAVOURS - NATURAL AND NATURE IDENTICAL FLAVOURING SUBSTANCES
When your family's heart health is your priority, we know that you're willing to take additional efforts to protect them from heart related effects like cholesterol. While you take care of yourself with heart healthy efforts, ensure that your oil works hard as well! Choose Saffola Total Oil 5L.
This 5L Saffola Oil for heart is a premium blend that works on 8 bio markers of heart health thereby helping you in your efforts towards heart health!


Daily consumption of Saffola Total 5L Oil as part of a balanced diet with regular physical activity can help you maintain a healthy lifestyle. Saffola Safflower (Kardi) Oil 5L offers a convenient way of getting the nutritional benefit of 2 oils in one to help take better care of your heart.
From the Manufacturer

About the Brand:
At Saffola, we understand that each one of you have your own way in which you blend health into your lifestyle. We encourage and applaud your actions to discover your own ways of being fit & heart- healthy, so that health becomes not only a journey, but a sustainable part of your life.
(*Basis frying studies on potato, 2018)

Ingredients
Physically Refined Rice Bran Oil & Refined Safflower (Kardi) Seed Oil. Contains Permitted Antioxidants [307, 304, 319, 330] And Anti Foaming Agent INS [900a]. Free From Argemone Oil. Fortified With Vitamins A And D.
You can also take a tour of our extensive variety of immunity boosting products including Saffola Arogyam Chyawanprash, Saffola Immuniveda Kadha & Saffola Immuniveda Golden Turmeric Milk. We also have a number of high protein products such as alphonso mango shake, classic green coffee, spanish tomato soup and much more.