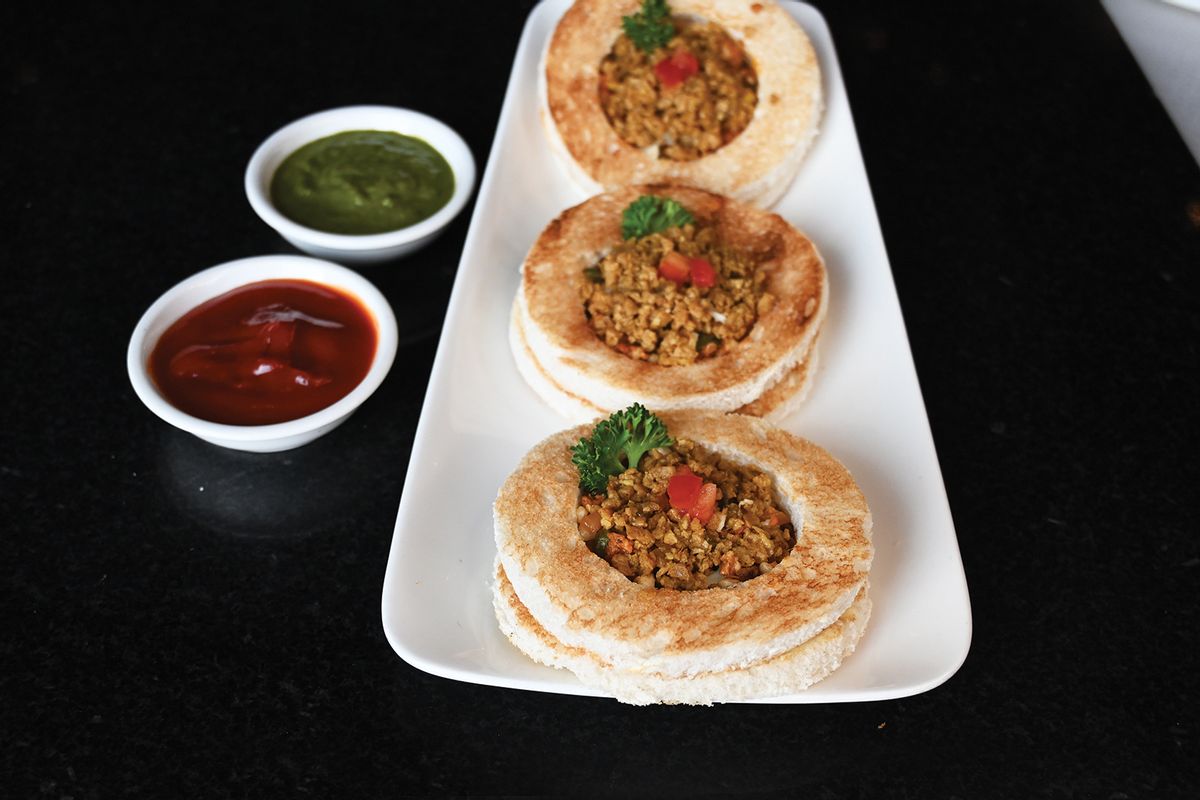 30 min
4 Serving
44g Protein
Vegetarian
6
Ingredients
Saffola Soya Bhurji packets – 2
White sandwich bread – 12 pieces
Onion, finely chopped – 1
Tomato, deseeded and finely chopped – 1 small
Sweet corn, boiled – ¼ cup
Capsicum, finely chopped – 1 small
Processed cheese , grated – 4 tbsp
Coriander leaves, finely chopped – 2 tbsp
Black pepper powder – 1 tsp
Red chilli flakes – 1 tsp
Mixed dried herbs – ½ tsp
Butter – 4 tbsp
Tomato sauce – 3-4 tbsp
Cheese, grated – 1 tbsp
Recipe Instructions
Cook 2 packets of Saffola Soya Bhurji in 300 ml water for 5 minutes or till you get the desired consistency. Keep aside and let it cool.
In a mixing bowl, add Saffola Soya Bhurji, finely chopped onions, tomatoes, capsicum, chilli flakes, black pepper powder, mix herbs, coriander leaves and tomato sauce to the Soya Bhurji mixture and mix well.
Taste the mix and adjust the seasonings as per taste. Your stuffing is ready.
For the spread, in a bowl take 2 tbsp butter. Add 1 tbsp grated cheese and tomato ketchup and mix well. Our spread is ready.
Using a big round cookie cutter, cut roundels from the all bread slices. Keep aside
Now using a small cookie cutter or sharp lid, cut out roundels from 5 bread slices of the big roundels to get bread rings. Keep the small rings aside.
Now apply the butter & ketchup spread over the roundels and place rings over them and press lightly.
Fill remaining bread rings with the stuffing and apply butter on the edges of each bread rings.
Spread some grated cheese over the stuffing
Arrange them in an Air-fryer and roast the Saffola Soya Bhurji discs for 5–7 minutes or until the edges are crisp and golden.
Serve the delicious tempting Saffola Soya Bhurji discs with tomato ketchup.
Buy Soya Bhurji
Customer Ratings & Reviews
Rate Recipe