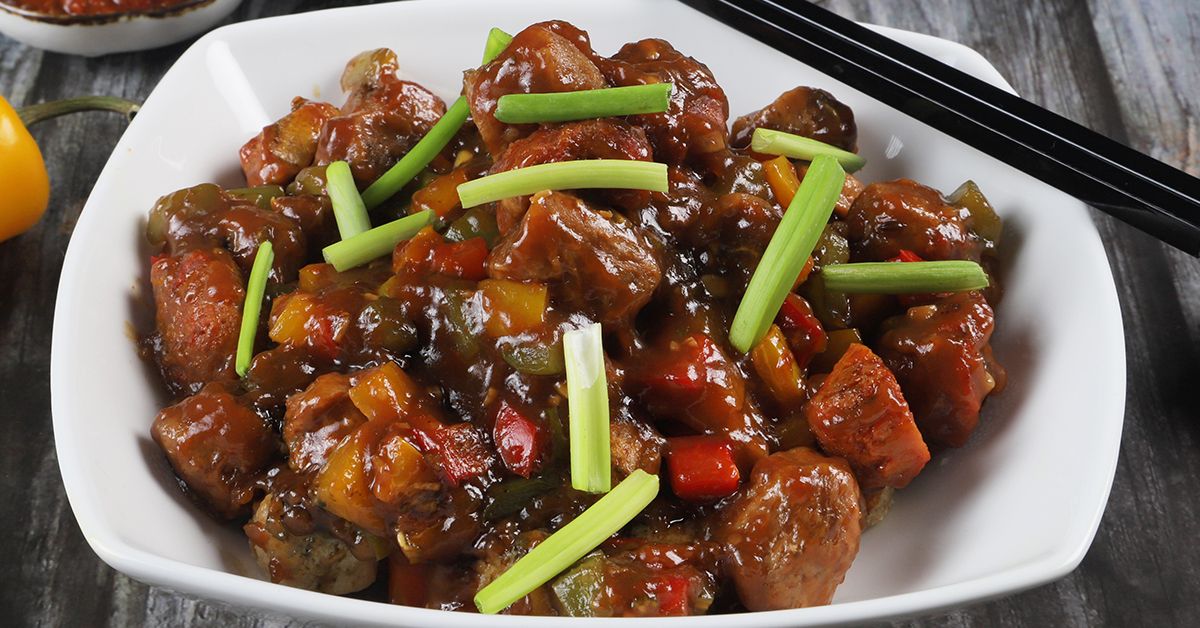 15 min
3 Serving
13g Protein
Vegetarian
3
Ingredients
½ cup Saffola Soya Chunks (boiled and squeezed dry)
½ cup Red/Yellow/Green bell peppers, cut into small cubes
½ tsp Garlic, chopped
½ tsp Ginger, chopped
1 Green chilli, chopped
½ tsp Celery, chopped
2 Fresh Spring onion, cut into 1 inch length and chopped onion bulbs
1 tbsp Oil
Pepper to taste
1 pinch of Aromat powder
1 tsp Rice wine/Rice vinegar/Regular vinegar
1 tsp Soya sauce
1 tsp Oyster mushroom sauce
¼ cup Veg stock/Plain water
1 tbsp Cornflour slurry
Salt to taste
Recipe Instructions
Take 1 tbsp of oil in a hot wok or frying pan and add garlic, ginger, green chilli, celery one after the other and sauté until fragrant.
Add cooked Saffola Soya Chunks and toss it in the wok, followed by assorted bell peppers. (Optionally,sprinkle some corn flour and deep fry Saffola Soya
Chunks for 3-4mins in medium hot oil to get a crispier texture.)
Add sauces, rice wine, veg stock.
Add seasonings like salt, pepper, aromat powder.
Add cornflour slurry and give it a swirl in the wok.
Garnish with fresh spring onions and onion bulbs.
Serve hot with a bowl of fragrant steamed rice or stewed noodles.
Buy Soya Chunk
Thank you for verifying.
Click here to download