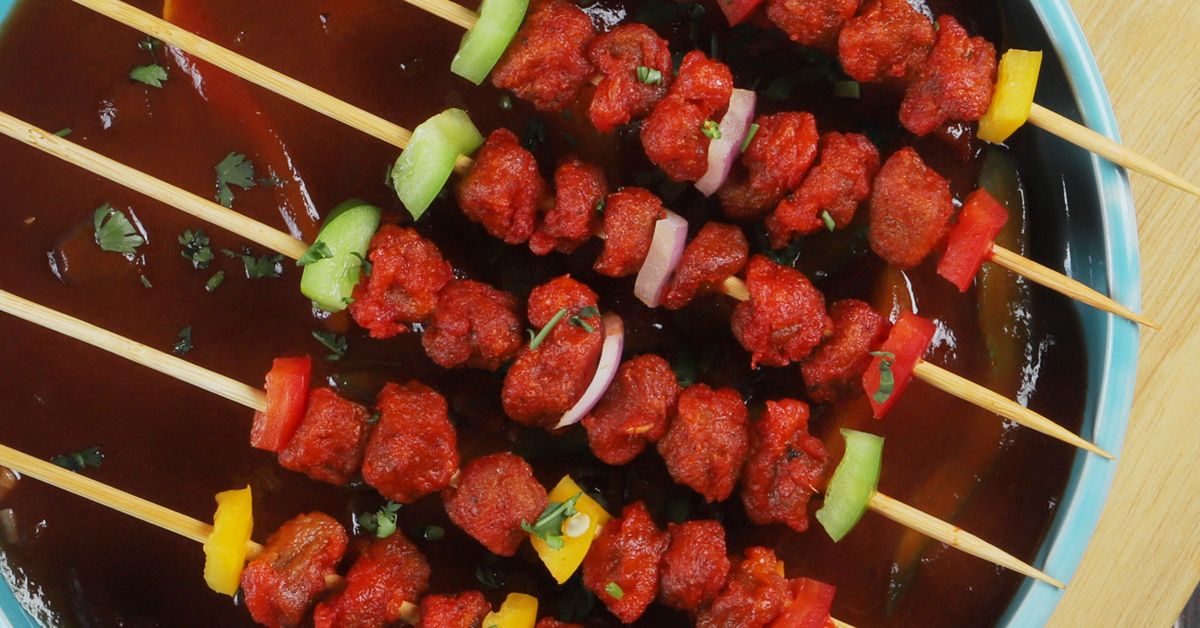 20 min
4 Serving
24g Protein
Vegetarian
2
Ingredients
1 cup Saffola Masala Soya Chunks, cooked (boiled and squeezed dry)
3 medium-sized Onions
2 medium-sized Green capsicums
1 medium-sized each of Yellow & Red peppers
½ tbsp Soya sauce & 2 tbsp Tomato sauce
¾ tbsp Ginger-Garlic paste
1 tbsp (heap full) Maida or All-purpose flour
1 tbsp each Chilli & Coriander powders
Oil enough to fry
1 tsp Vinegar
2 tbsp Water
Salt to taste
For garnishing
Onion rings,Coriander leaves, chopped.
Recipe Instructions
Marinate and fry the Soya Chunks
In a bowl, make a paste with half a tsp of red chilli powder, maida, garlic-ginger paste, salt and water.
Marinade the soya chunks in this paste for 20mins.
Heat enough oil in a thick bottomed pan and fry the marinated Saffola Masala Soya Chunks on a medium flame till it is brownish red in colour. Keep aside.
Preparation of Gravy
Heat 2 tsp of oil in a thick bottomed pan. Add sliced onions and capsicum and saute till light brown.
Add half tsp chili powder, coriander powder, salt, soya sauce, vinegar and tomato sauce in to it and mix properly.
Final Mix and Garnish
Now add the previously prepared Soya Chunks into it and mix properly.
Close the lid and let it cook for about 5mins on low flame.
Once ready arrange them in skewers interspersed with coloured peppers and onion chunks. Serve hot.
Buy Soya Chunk
Thank you for verifying.
Click here to download